Where is Eltham?
Eltham is the southernmost town in The Royal Borough of Greenwich. Strategically placed between London and Kent, it came to prominence in Tudor times, when a young King Henry VIII resided at Eltham Palace, a moated manor house. Today, Eltham Palace & Gardens is the jewel of the town and hosts a variety of family-friendly events all year round.
The town is over 50% green space and the River Thames and neighbouring parks of Blackheath and Greenwich are 25 minutes by bus.
If you fancy an evening in London's Theatreland, or a stroll along the Southbank, you can be at Waterloo East or Charing Cross in less than 30 minutes by direct train.
Nearby Kidbrooke Village is undergoing redevelopment and will offer impressive shopping, cafés, and leisure facilities, as well as open space and a running track at Cator Park.
Transportation
Residents in Eltham are served by direct mainline services.
Use Eltham Station (zone 4) for London Bridge (21 mins), Waterloo East (26 mins) or Charing Cross (29 mins). Connect to Victoria and Cannon Street via London Bridge and Waterloo East.
• Connect with the DLR at Lewisham (10 mins by train or 22 mins by direct bus).
• Nearby alternative stations include New Eltham, Kidbrooke, Mottingham, Elmstead Woods and Falconwood.
• Road connections to A2, South Circular and A20
• Direct bus route to North Greenwich for the river, Jubilee Tube line and the O2 Arena (25 mins).
• Cycling lanes have recently been established as part of an Eltham regeneration scheme.
How long does it take to travel from Eltham to London?
Travelling by train, it takes as little as 20 minutes to get from Eltham to London Charing Cross. By car via the A2 and A20, it takes around an hour to get into central London.
Eltham bus routes
Whether you're a top deck, front seat driver or want the convenience of quickly getting from A to B, it's simple to get around Eltham, with the district served by a great number of bus routes. This includes a direct bus route to North Greenwich for the river, Jubilee Tube line and the O2 Arena (25 mins).
Schools in and around Eltham
Primary schools in Eltham
Eltham boasts no less than 24 primary schools rated Outstanding within a 3-mile radius. Notable primary schools include Deansfield Primary School, St Mary's Catholic Primary School and Eltham Church of England Primary School.
Secondary schools in Eltham
Eltham teens also have a choice of high-performing state and independent schools — 5 rated Outstanding and 19 rated Good within a 3-mile radius. Secondary schools include Harris Academy Greenwich, Thomas More Comprehensive and Bexley Grammar School.
Eltham College
Founded in 1842, Eltham College was originally established as a school for the sons of Missionaries. It's now one of South London's most respectable grammar schools open to both male and female students.
University of Greenwich
Surrounded by green spaces, the Avery Hill Campus offers first-rate teaching and sporting facilities and is a great place for students to live and study, with central London just a 30 minute train journey away.
Early years education in Eltham
The area is well served for early years childcare too. There are 7- 8 nurseries around Eltham High Street and a further 20 within a 3-mile radius.
Where to Eat & Shop in Eltham
A new pedestrianised area was created in Passey Place for entertainment and events, including a monthly market selling a variety of fresh produce from across the southeast. The High Street boasts independent stores alongside national chains, such as M&S, Sainsbury's and Lidl. In Eltham you'll find small restaurants offering international cuisine (convenient for take-out), alongside more traditional family-friendly pubs on the high street, such as The White Hart Pub & Carvery. Another unmissable place for a smart cream tea is the Grade 1 listed Eltham Lodge, which overlooks acres of parkland and the Royal Blackheath Golf Club.
For a fine dining experience with Turkish Cuisine, head to Rox. There is a cocktail bar located above, and it is available for private parties and celebrations - a real treat to mark special occasions. For a more casual atmosphere, head to The Rusty Bucket, which specialises in craft beers, and has recently added fine coffee, artisan hot chocolate and pastries to the menu. It's also the place to go for live music. Coming soon: There is a new rooftop bar set to launch in 2022, located in the vacant space above the VUE cinema on Eltham High Street.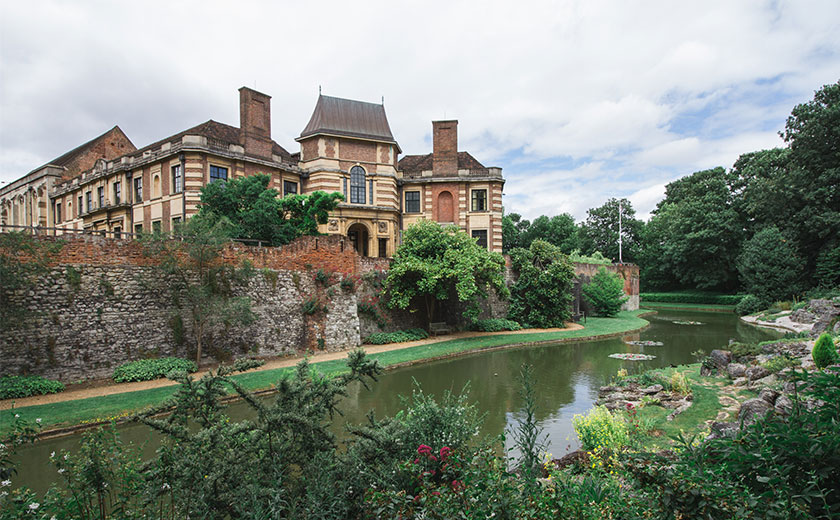 Places to walk in Eltham
One of the amazing benefits of living in Eltham is the abundance of green space. Around 50% of the town is parkland, forest, or golf course.
For nature lovers: In January 2020, just under £20,000 was awarded to Metro Charity from the Mayor of London's initiative to create or improve green spaces. They plan to use these funds to transform seven derelict allotments into a rich wildlife area with multiple habitat zones. If you have a dog, or like to run, Eltham Common is a vast green space to the north of the town.
Well Hall Pleasaunce
Well Hall Pleasaunce is a multi-themed garden park with an Italian garden, rose garden, heather garden, and floral shield garden with points of interest all year round.
As well as a children's play park and a bowling green visitors are well catered for, with 'The Tudor Barn' dating back to the 1500s now a restaurant. For those interested in the park's historical links with the Tudor monarchy, the Well Hall Pleasaunce park ranger service conducts walking tours.
Oxleas Wood
Oxleas Wood covers 77 hectares and is at least 8,000 years old. Take a walk through the woods and visit Severndroog Castle, an elegantly preserved Gothic tower situated on Shooter's Hill, one of the highest points in London. Take in the spectacular 360° views and visit the castle's family-friendly tearoom which is open all year round. Severndroog Castle also hosts festivals and Christmas workshops.
Eltham Sports Clubs
Football clubs in Eltham
Eltham Football Club plays at The Oaks and boasts a smart clubhouse, which is used for parties and weddings.
Eltham is also home to Greenwich Borough FC. Established in 1928, they currently play in the Isthmian League - SouthEast Division at the Badgers Sports Ground DRS Stadium.
Eltham Cricket Club
If you like your cricket, and want to play competitively-but-socially, then joining Eltham Cricket Club for some weekend wickets would be great fun. They're based at Footscray Rugby Sports & Athletic Club.
Golf courses in and around Eltham
Outside of Scotland, Royal Blackheath Golf Club is the oldest golf club in the world with a grade 1 listed building, Eltham Lodge, as their clubhouse. For those looking to improve their short game, other local golf clubs include Eltham Warren Golf Club, Shooters Hill Golf Club, And Sidcup Family Golf.
Things to do in Eltham
Explore 19 acres of award-winning gardens and visit the striking Art Deco mansion which incorporates parts of King Henry VIII's childhood home. The palace hosts events throughout the year, including enchanting garden illuminations in winter. The medieval jousting displays and art deco fairs are not to be missed!
Vue Cinema and Restaurant
Located on the high street, a new Vue Cinema and Restaurant complex was built as part of the recent regeneration scheme and is a huge asset to the area — bringing more shoppers and diners to the high street.
Why the name? Hollywood star Bob Hope was born in Eltham and came back to the area several times while golfing in the UK. He rescued the theatre from closure in 1980. Today, the theatre upholds his vision of a community performance space with youth workshops.
Goals
If you're looking for more activity in your life, Goals in Eltham is a modern 5-a-side football centre with ProTurf pitches for hire, as well as leagues and tournaments. For much-needed refreshments there's a bar and café on site, and live sports being shown on screens.
The Eltham Centre
This is a community hub managed by Better with a gym, classes, swimming pool, cycle studio, sauna, steam room, jacuzzi, and hydro pool. For enthusiastic bookworms there is a library and enchanted story garden, as well as a college, a café and it's home to the Academy Performing Arts who run classes for everyone from enthusiastic little ones to professionals.